Debra Heights Wesleyan Church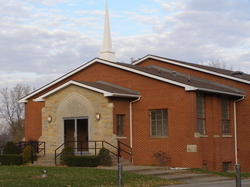 Physical Address
4025 Lower Beaver Rd
Des Moines, IA 50310
In the fall of 1938, Rev. Edward Boone and his entire family moved from Michigan to Des Moines to start a new church. After quickly finding a home and settling in, the Boone family approached local radio station KRNT to air a weekly variety show. The show was an immediate success, and as the new church was frequently mentioned during broadcasts, things began to move quickly. Within four months of moving to town, a facility was purchased at the corner of what is now University Ave. and Martin Luther King, Jr., Parkway in Des Moines, and within six, first services were held.
The popularity of The Boone Family radio show brought with it explosive growth. Within just a few years, the congregation started to outgrow its facility, and plans were made to erect a new structure in a new housing development being built on the north edge of town. By June 1955, the new facility was complete with seating for approximately 250, and the first services were held at the current location on Lower Beaver Rd.
In 1968, following the merger of The Pilgrim Holiness Church and The Wesleyan Methodist Church of America, the congregation was renamed Debra Heights Wesleyan Church in honor of the neighborhood in which it was found.
Today, the congregation of Debra Heights is admittedly not as large as it was 50 years ago, but our commitments remain. We are a congregation that is absolutely committed to the life-changing gospel of Jesus Christ and the community in which we live. Our worship services are casual, and our love for everyone who walks through the door is real.
If you've never been to church before, or it's been some time... If you know you're looking for something, even if you don't know exactly what... If you want to experience life which springs up and gushes forth from within you... We invite you to come, join us today.