What to Expect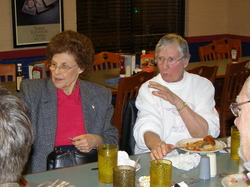 Now that you're on your way, you'll probably want to know what to expect when you arrive at Debra Heights Wesleyan. To help you out, here are a five things that we can promise you will probably experience during your visit:
You won't be just a number. Some people think that being a small church is a bad thing, but we really think that it is a tremendous advantage. Why? Well, who likes to be just another customer who walks through the door of the bank or grocery store or restaurant? In short, we promise that we will notice you, go out of our way to welcome you, and learn your name. By the way, that last part might take a week or two to get down!
You will probably laugh at least once. Quite frankly, we're not particularly formal, and we like to laugh. So you'll probably hear a joke or two, and if we make a mistake, we'll probably laugh at ourselves. It's just more fun that way.

You will be given a chance to participate. Participation at DHWC comes in a variety of forms, including our call to worship (a bit of Scripture that we read together), or music worship (where we sing together), or our testimony time (where we share what God has been doing in our lives). Don't let this scare you away, though! You should feel free to participate as little or as much as you feel comfortable.
You will experience God through a variety of styles. Some churches make a big deal about the style of their worship service. We're really not stuck on a style. Some aspects of our service could be called contemporary. Others would be considered traditional. For the music lovers, we usually place lyrics to songs on a screen, but you will also find people cracking hymnals as well.
You will hear Biblical teaching. A lot of churches you can visit will offer a nice message about fluffy kitties and warm sunshine and stuff. We will open the Bible and study it together, plumbing it for what God has to say to us today. And we'll be challenged to go home and put what we've learned to use in our daily lives.
So there you have it. Five things that you can probably expect while you are our guest. We're looking forward to meeting you!